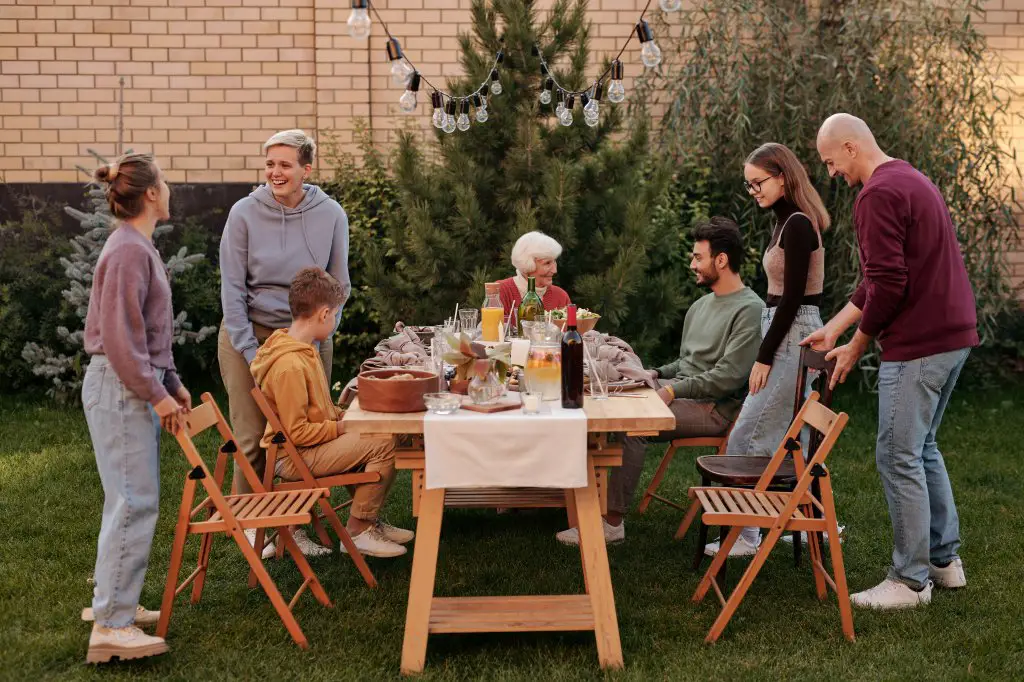 In its most basic form, a family consists of parents, their children, and blood or marriage relatives. They are there to love, comfort, care for, and support you.
A family is a center, the foundation upon which individual and community health, well-being, growth, and development are built. And this foundation includes those who, even if they are not related by blood or marriage, share the love, understanding, respect, support, and nurturing that comes with being a part of a family.
It is the strength of the community that defines a family, those who genuinely care about you and want to see you succeed.
People with open hearts and a willingness to accept you for who you are as a human being. Even when things go wrong and you are in a crisis, you can always rely on your family.
Family helps you rediscover your values and make sound decisions.
And so to celebrate family what a family is and should be, here's a collection of deep and meaningful family quotes and sayings that show the strength of the bond shared between family members. These family quotes and sayings are perfect for expressing your love for your family.
100+ Family quotes and sayings
Quotes about family
We may have our differences, but nothing's more important than family.

– Coco
The bond that links your true family is not one of blood, but of respect and joy in each other's life.

– Richard Bach
A happy family is but an earlier heaven.

– George Bernard Shaw
Being a family means you are a part of something very wonderful. It means you will love and be loved for the rest of your life.

– Lisa Weed
The most important thing in the world is family and love.

– John Wooden
Family faces are magic mirrors. Looking at people who belong to us, we see the past, present, and future.

– Gail Lumet Buckley
So much of what is best in us is bound up in our love of family, that it remains the measure of our stability because it measures our sense of loyalty. 

– Haniel Long
A man should never neglect his family for business. 

– Walt Disney
Sister is probably the most competitive relationship within the family, but once the sisters are grown, it becomes the strongest relationship. 

– Margaret Mead
Everyone needs a house to live in, but a supportive family is what builds a home.

– Anthony Liccione
The informality of family life is a blessed condition that allows us all to become our best while looking our worst.

– Marge Kennedy
Having a place to go is a home. Having someone to love is a family. Having both is a blessing.

– Donna Hedges
The family–that dear octopus from whose tentacles we never quite escape, nor, in our inmost hearts, ever quite wish to.

– Dodie Smith
Rejoice with your family in the beautiful land of life.

– Albert Einstein
A family is a bunch of people who keep confusing you with someone you were as a kid.

– Robert Breault
Sticking with your family is what makes it a family.

– Mitch Albom
The great advantage of living in a large family is that early lesson of life's essential unfairness.

– Nancy Mitford
In truth a family is what you make it. It is made strong, not by number of heads counted at the dinner table, but by the rituals you help family members create, by the memories you share, by the commitment of time, caring and love you show to one another, and by the hopes for the future you have as individuals and as a unit.

– Marge Kennedy
I sustain myself with the love of family.

– Maya Angelou
Our most basic instinct is not for survival but for family.

– Paul Pearsall
Stick to the basics, hold on to your family and friends  they will never go out of fashion.

– Niki Taylor
You go through life wondering what is it all about but at the end of the day it's all about family.

– Rod Stewart
My greatest pleasure is spending time with my family.

– Siri Hustvedt
A home with a loving and loyal husband and wife is the supreme setting in which children can be reared in love and righteousness and in which the spiritual and physical needs of children can be met.

– David A. Bednar
Families are like branches on a tree. We grow in different directions yet our roots remain as one.

– Unknown
Family quotes inspirational
The love of the family, the love of one person can heal. It heals the scars left by a larger society. A massive, powerful society.

– Maya Angelou
When everything goes to hell, the people who stand by you without flinching–they are your family.

– Jim Butcher
In family life, love is the oil that eases friction, the cement that binds closer together, and the music that brings harmony.

– Friedrich Nietzsche
You are the bows from which your children as living arrows are sent forth.

– Khalil Gibran
Families are the compass that guides us. They are the inspiration to reach great heights, and our comfort when we occasionally falter.

– Brad Henry
You don't choose your family. They are God's gift to you, as you are to them.

– Desmond Tutu
That's what people do who love you. They put their arms around you and love you when you're not so lovable.

– Deb Caletti
There is good in everything; it's just how you choose to look at it. Everything that's worth it has a price. For me to be a model – I had to leave my family. Do you think I liked that? No! There are sacrifices. Life is meant to be a challenge, because challenges are what make you grow.

– Gisele Bundchen
There's nothing that makes you more insane than family. Or more happy, or more exasperated, or more secure.

– Jim Butcher
In time of test, family is best.

– Burmese Proverb
My mother used to tell me that when push comes to shove, you always know who to turn to. That being a family isn't a social construct but an instinct.

– Jodi Picoult
I have a wonderful shelter, which is my family.

– José Carreras
There is no doubt that it is around the family and the home that all the greatest virtues, the most dominating virtues of human, are created, strengthened and maintained.

– Winston S. Churchill
When all the dust is settled and all the crowds are gone, the things that matter are faith, family and friends.

– Barbara Bush
Feelings of worth can flourish only in an atmosphere where individual differences are appreciated, mistakes are tolerated, communication is open, and rules are flexible – the kind of atmosphere that is found in a nurturing family.

– Virginia Satir
The only rock I know that stays steady, the only institution I know that works, is the family.

– Lee Iacocca
He learned about life, but the thing that he taught my whole family was that family was the most important thing and, no matter what, if a family member needs you, you go and help them out; you get there.

– Adam Sandler
The family is the test of freedom; because the family is the only thing that the free man makes for himself and by himself.

– Gilbert K. Chesterton
Soup is a lot like a family. Each ingredient enhances the others; each batch has its own characteristics; and it needs time to simmer to reach full flavor.

– Marge Kennedy
You can't control where you were born, the family you were born into, what you look like; you can't control any of those circumstances. The only thing you can control is how you react.

– Aisha Tyler
We define family in many different ways: not just by blood but by people with whom we find a common ground and a common bond.

– Adrienne C. Moore
Home is where your family is. Wherever you are, it's about the people you're surrounded by, not necessarily where you lay your head.

– Jenji Kohan
In family relationships, 'love' is really spelled 't-i-m-e,' time. Taking time for each other is the key for harmony at home.

– Dieter F. Uchtdorf
Family is a unique gift that needs to be appreciated and treasured, even when they're driving you crazy. As much as they make you mad, interrupt you, annoy you, curse at you, try to control you, these are the people who know you the best and who love you.

– Jenna Morasca
There is no rule book, no right or wrong; you just have to make it up and do the very best you can to care for your family.

– Kate Middleton
Family quotes short
Family is not an important thing. It's everything.

– Michael J. Fox
The family is one of nature's masterpieces.

– George Santayana
My family is my strength and my weakness.

– Aishwarya Rai Bachchan
Without a family, man, alone in the world, trembles with the cold.

– Andre Maurois
When trouble comes, it's your family that supports you.

– Guy Lafleur
Family, nature and health all go together.

– Olivia Newton-John
Family always gonna be there. The material things, they come and go.

– Romeo Miller
The most important thing in the world is family and love.

– John Wooden
Family and friendships are two of the greatest facilitators of happiness.

– John C. Maxwell
Family makes a house a home.

– Jennifer Hudson
The richest inheritance any child can have is a stable, loving, disciplined family life.

– Daniel Patrick Moynihan
I'm a lucky person because I've been loved a lot. I have a great family.

– Monica Bellucci
People treat me like family, 'cause I've always treated them like family.

– Richard Simmons
Cherish your human connections: your relationships with friends and family.

– Joseph Brodsky
My family is my little village. I really do feel like my fairy tale came true.

– Molly Sims
The memories we make with our family is everything.

– Candace Cameron Bure
Time together as a family is a gift.

– Joanna Gaines
I've always put my family first and that's just the way it is.

– Jamie Lee Curtis
The family is the nucleus of civilization.

– Will Durant
My family was my guide to my reality.

– Haywood Nelson
Family quotes funny
Happiness is having a large, loving, caring, close-knit family in another city. 

– George Burns
The other night I ate at a real nice family restaurant. Every table had an argument going. 

– George Carlin
Families are messy. Immortal families are eternally messy. Sometimes the best we can do is to remind each other that we're related for better or for worse…and try to keep the maiming and killing to a minimum. 

– Rick Riordan
The greatest thing in family life is to take a hint when a hint is intended-and not to take a hint when a hint isn't intended. 

– Robert Frost
There is no such thing as fun for the whole family. 

– Jerry Seinfeld
Parents are like God because you wanna know they're out there, and you want them to think well of you, but you really only call when you need something.

– Chuck Palahniuk
Being part of a family means smiling for photos.

– Harry Morgan
The greatest gift of family life is to be intimately acquainted with people you might never even introduce yourself to, had life not done it for you. 

– Kendall Hailey
My dear young cousin, if there's one thing I've learned over the eons, it's that you can't give up on your family, no matter how tempting they make it.

– Rick Riordan
A family is a unit composed not only of children but of men, women, an occasional animal and the common cold.

– Ogden Nash
When his life was ruined, his family killed, his farm destroyed, Job knelt down on the ground and yelled up to the heavens, 'Why god? Why me?' and the thundering voice of God answered, 'There's just something about you that pisses me off.'

– Stephen King
Family love is messy, clinging and of an annoying and repetitive pattern, like bad wallpaper.

– P.J. O'Rourke
Maybe there is no actual place called hell. Maybe hell is just having to listen to our grandparents breathe through their noses when they're eating sandwiches.

– Jim Carrey
Families are like fudge mostly sweet, with a few nuts.

– Les Dawson
You are born into your family and your family is born into you. No returns. No exchanges.

– Elizabeth Berg
Home is where you are loved the most and act the worst.

– Marjorie Pay Hinckley
Happy is said to be the family which can eat onions together. They are, for the time being, separate, from the world, and have a harmony of aspiration.

– Charles Dudley Warner
A dysfunctional family is any family with more than one person in it.

– Mary Karr
The world, we'd discovered, doesn't love you like your family loves you.

– Louis Zamperini
Family and friends are hidden treasures, seek them and enjoy their riches.

– Wanda Hope Carter
Apparently, one in five people in the world are Chinese. And there are five people in my family, so it must be one of them. It's either my mum or my dad. Or my older brother, Colin. Or my younger brother, Ho-Chan-Chu. But I think it's Colin.

– Tim Vine
Other things may change us, but we start and end with the family.

– Anthony Brandt
Insanity runs in my family. It practically gallops.

– Cary Grant
People are pretty forgiving when it comes to other people's families. The only family that ever horrifies you is your own.

– Douglas Coupland
I don't have to look up my family tree, because I know that I'm the sap.

– Fred Allen
Family love quotes
Home should be an anchor, a port in a storm, a refuge, a happy place in which to dwell, a place where we are loved and where we can love.

– Marvin J. Ashton
The greatest moments in life are not concerned with selfish achievements but rather with the things we do for the people we love and esteem.

– Walt Disney
The love of family and the admiration of friends is much more important than wealth and privilege.

– Charles Kuralt
I come from that society and there is a common thread, specifically family values – the idea that you do anything for your family, and the unconditional love for one's children.

– Ednita Nazario
There is a lot I need to thank God for, everyday. But I think I am blessed because I have a very loving, understanding and supporting family.

– Neha Dhupia
I love my family, even as I critique their dysfunctionalities.

– bell hooks
You need a strong family because, at the end, they will love you and support you unconditionally.

– Esha Gupta
Love your family. Love your country. Never stop learning… And always look back and be grateful to where you came from.

– John Gokongwei
The love of a family is a life's greatest blessing.

– Eva Burrows
Think of your family today and every day thereafter, don't let the busy world of today keep you from showing how much you love and appreciate your family.

– Josiah
Family isn't defined only by last names or by blood; it's defined by commitment and by love.

– Dave Willis
Your family and your love must be cultivated like a garden. Time, effort, and imagination must be summoned constantly to keep any relationship flourishing and growing.

– Jim Rohn
What defines family
A family is commonly defined as the group of people into which you were born. In normal terms, blood or legal relation is the defining factor of what we call family.
However, as we broaden our world, our perspective, and our values or beliefs, we realize that family includes people who, while not related by affinity or consanguinity, love you for who you are. Stays by your side in good and bad times, and always encourages and supports you in becoming the best person you can be.
Call it a clan, call it a network, call it a tribe, call it a family: Whatever you call it, whoever you are, you need one.

– Jane Howard
As stated in the previous quote, we need family- blood or not- in order to get the most out of life.
Not just for survival, but also because their love and unwavering support of us and our abilities give us a good reason and a sense of purpose. To keep striving for improvement and success.
We give our best for our family in the same way that they give their best for us.
Final thoughts
To close, a family is not only about being related by affinity or consanguinity, it also includes having a shared connection characterized by unconditional love, understanding, support, trust, respect, caring, and nurturing for each other's well-being, development, and improvement.
And it is critical that we find this relationship, this community if we are to grow, thrive, and survive. This is because a family is where you will find love, care, support, understanding, and, in general, the development of who you are.
A family is what you need to have a strong motivation, and a deep desire to improve not only yourself but also your family members.
Finally, a family is what will make you want to succeed in this life and what makes life worth living.
Please share your thoughts or ideas about Family Is Love! Your Top 100+ Family Quotes And Sayings in the comments below. For more quotes, check out…