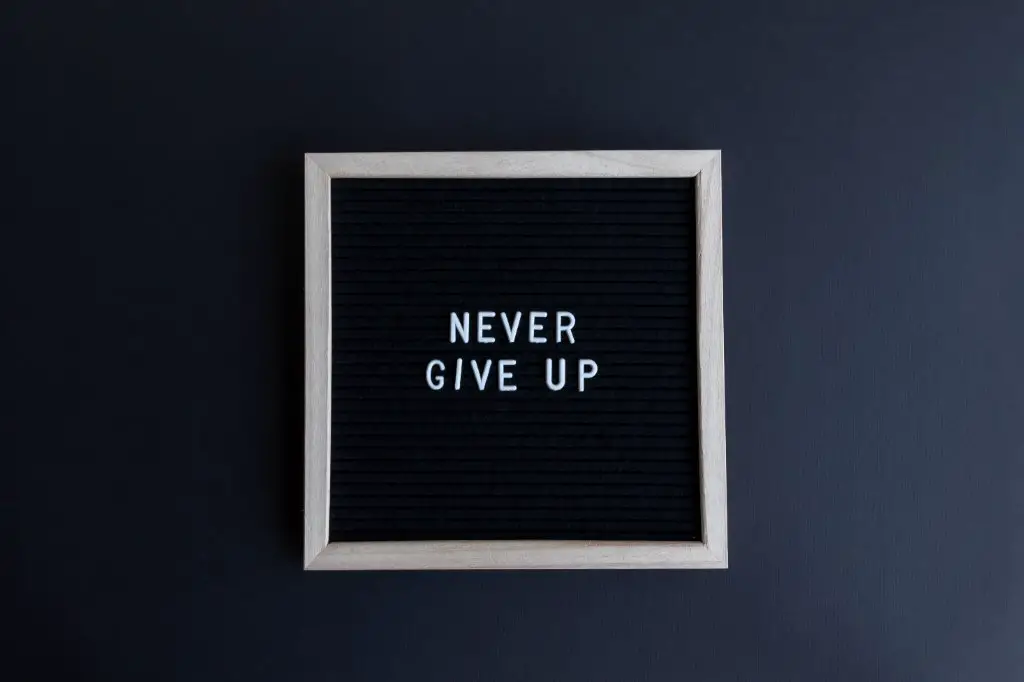 It can be very tempting to give up and throw in the towel when things get tough.
When you are in a situation like this, it feels like the world is closing in on you. It seems that no matter what you do, there is always a tough challenge to face or a gigantic obstacle to surmount.
To make matters worse, everyone around you is urging you to give up. On yourself, your dream, your goal, and your objective.
They may mean well, and they may simply not want to see you having a difficult time, being troubled, or worse, being hurt, but they are only making you feel terrible. Making you feel stupid, foolish, and a complete failure.
But if you just hang in there a little longer, tough it out just one more time, try harder, or find another way, soon you will eventually achieve the success you have always dreamed of.
What's more, the victory will be all the sweeter because of having triumphed over all the challenges and adversities that came your way.
You are more of a winner than you realize simply by never, ever giving up!
So, if you are currently facing a difficult battle, take heart and read our list of 80+ never give up quotes to inspire you to keep fighting and to always give your best.
All hail your inner champion!
80 Never give up quotes
Best motivational quotes to never give up
Never, never, never, never give up.

– Winston Churchill
Survival can be summed up in three words—never give up. That's the heart of it really. Just keep trying.

– Bear Grylls
Either do not begin or, having begun, do not give up.

– Chinese Proverb
The difference between perseverance and obstinacy is that one comes from a strong will, and the other from a strong won't.

– Henry Ward Beecher
If you fell down yesterday, stand up today.

– H.G. Wells
Just don't give up trying to do what you really want to do. Where there is love and inspiration, I don't think you can go wrong.

– Ella Fitzgerald
Never give up, for that is just the place and time that the tide will turn.

– Harriet Beecher Stowe
You never know what's around the corner. It could be everything. Or it could be nothing. You keep putting one foot in front of the other, and then one day you look back and you've climbed a mountain.

– Tom Hiddleston
Keep trying until you have no more chances left.

– Aimee Carter
I am not judged by the number of times I fail, but by the number of times I succeed: and the number of times I succeed is in direct proportion to the number of times I fail and keep trying.

– Tom Hopkins
Perseverance is not a long race; it is many short races one after another.

– Walter Elliott
In the confrontation between the stream and the rock, the stream always wins, not through strength but by perseverance.

– H. Jackson Brown
Success is no accident. It is hard work, perseverance, learning, studying, sacrifice and most of all, love of what you are doing or learning to do.

– Pele
You may encounter many defeats, but you must not be defeated. In fact, it may be necessary to encounter the defeats, so you can know who you are, what you can rise from, how you can still come out of it.

– Maya Angelou
Never lose hope. Storms make people stronger and never last forever.

– Roy T. Bennett
Perseverance is a great element of success. If you only knock long enough and loud enough at the gate, you are sure to wake up somebody.

– Henry Wadsworth
Just because you fail once doesn't mean you're gonna fail at everything.

– Marilyn Monroe
The difference between a successful person and others is not a lack of strength, not a lack of knowledge, but rather a lack in will.

– Vince Lombardi
Dripping water hollows out stone, not through force but through persistence.

– Ovid
Never stop fighting until you arrive at your destined place – that is, the unique you. Have an aim in life, continuously acquire knowledge, work hard, and have perseverance to realize the great life.

– A. P. J. Abdul Kalam
When things go wrong, don't go with them.

– Elvis Presley
The most essential factor is persistence – the determination never to allow your energy or enthusiasm to be dampened by the discouragement that must inevitably come.

– James Whitcomb Riley
There always comes a time in life where you can either give up or step up.

– Graeme Rodaughan
– Abraham Lincoln
Quotes about never giving up
Never give up on a dream just because of the time it will take to accomplish it. The time will pass anyway.

– Earl Nightingale
Don't give up. I believe in you all. A person's a person. No matter how small.

– Dr. Suess
On one hand, we know that everything happens for a reason, and there are no mistakes or coincidences. On the other hand, we learn that we can never give up, knowing that with the right tools and energy, we can reverse any decree or karma. So, which is it? Let the Light decide, or never give up? The answer is: both.

– Yehuda Berg
The three ordinary things that we often don't pay enough attention to, but which I believe are the drivers of all success, are hard work, perseverance, and basic honesty.

– Azim Premji
Champions keep playing until they get it right.

– Billie Jean King
Success seems to be connected with action. Successful men keep moving. They make mistakes, but they don't quit.

– Conrad Hilton
Things don't go wrong and break your heart so you can become bitter and give up. They happen to break you down and build you up so you can be all that you were intended to be.

– Charles Jones
If you fall behind, run faster. Never give up, never surrender, and rise up against the odds.

– Jesse Jackson
Just because someone stumbles and loses their path, doesn't mean they're lost forever.

– Professor X
You just can't beat the person who won't give up.

– Babe Ruth
Never give up on something that you can't go a day without thinking about.

– Winston Churchill
Go out into the world with your passion and love for what you do, and just never give up.

– Dianne Reeves
Never quit believing that you can develop in life. Never give up. Don't deny the inward spirit that provides the drive to accomplish great things in life.

– Jon Huntsman, Sr.
Never give up trying to build the world you can see, even if others can't see it.

– Simon Sinek
Never stop trying. Never stop believing. Never give up. Your day will come.

– Mandy Hale
Never give up on what you really want to do. The person with big dreams is more powerful than one with all the facts.

– Albert Einstein
The secret of our success is that we never, never give up.

– Wilma Mankiller
You may be the only person left who believes in you, but it's enough. It takes just one star to pierce a universe of darkness. Never give up.

– Richelle E. Goodrich
Never give up. Laugh a lot. Be good to others.

– James Dashner
Make it a quest to never give up even when the dots seem as if they are difficult to connect.

– Charlena Jackson
Never lose the childlike wonder. Show gratitude. Don't complain; just work harder… Never give up.

– Randy Pausch
Never give up. Never give in. Never become hostile… Hate is too big a burden to bear.

– John Lewis
Never give up on yourself quotes
I know from experience that you should never give up on yourself or others, no matter what.

– George Foreman
Remember to look up at the stars and not down at your feet. Try to make sense of what you see and wonder about what makes the Universe exist. Be curious. And however difficult life may seem, there is always something you can do and succeed at. It matters that you don't just give up.

– Stephen Hawking
We can do anything we want to do if we stick to it long enough.

– Helen Keller
You just never give up. You do a task to the best of your abilities and beyond.

– Debbie Reynolds
Don't give up. There are too many nay-sayers out there who will try to discourage you. Don't listen to them. The only one who can make you give up is yourself.

– Sidney Sheldon
You do what you can for as long as you can, and when you finally can't, you do the next best thing. You back up but you don't give up.

– Chuck Yeager
Your victory is right around the corner. Never give up.

– Nicki Minaj
Never give up your desire to be what you want to be. Stay focused, persistent and relentless.

– Debasish Mridha MD
Never give up. You only get one life. Go for it!

– Richard E. Grant
You never give up, even when you should.

– Kelly Creagh
Work hard, and never give up on your dreams, even when nobody else believes they can come true but you.

– Phillip Sweet
Positivity, confidence, and persistence are key in life, so never give up on yourself.

– Khalid
It's okay to doubt yourself, it's okay to feel down; just never give up.

– Aaron Patzer
Progressing at a snail's pace is still progress, and slow progress is better than no progress. Never be stagnant, and never give up.

– Richelle E. Goodrich
Circumstances don't defeat you — you defeat yourself when you give up.

– Jonathan Lockwood Huie
I always try to do my best. Sometimes is that enough to get a good result, sometimes not, but I never give up, and I never will.

– Edin Dzeko
Don't give up on your dreams, or your dreams will give up on you.

– John Wooden
When you feel like giving up, remember why you held on for so long in the first place.

– Paolo Coelho
Stay strong and never give up quotes
The struggle you're in today is developing the strength you need for tomorrow. Don't give up.

– Robert Tew
Never give up. Today is hard, tomorrow will be worse, but the day after tomorrow will be sunshine.

– Jack Ma
Don't give up,
'cos you have friends,
don't give up,
you're not beaten yet,
don't give up,
I know you can make it good.

– Peter Gabriel
Courage is not having the strength to go on; it is going on when you don't have the strength.

– Teddy Roosevelt
Permanence, perseverance and persistence in spite of all obstacles, discouragements, and impossibilities: It is this, that in all things distinguishes the strong soul from the weak.

– Thomas Carlyle
Failure after long perseverance is much grander than never to have a striving good enough to be called a failure.

– George Eliot
If you are going through hell, keep going.

– Winston S. Churchill
The path from dreams to success does exist. May you have the vision to find it, the courage to get on to it, and the perseverance to follow it.

– Kalpana Chawla
Hardships make or break people.

– Margaret Mitchell
If your determination is fixed, I do not counsel you to despair. Few things are impossible to diligence and skill. Great works are performed not by strength, but perseverance.

– Samuel Johnson
Never give up. There are always tough times, regardless of what you do in anything in life. Be able to push through those times and maintain your ultimate goal.

– Nathan Chen
I actually learned that you should never give up, and if you love something, take courage and absolutely go after it.

– Jessica Jung
Never give up, and be confident in what you do. There may be tough times, but the difficulties which you face will make you more determined to achieve your objectives and to win against all the odds.

– Marta
I never give up, even when people tell me that I can't do something. But if I believe I can, I really fight for it.

– Leila Lopes
It's probably my job to tell you life isn't fair, but I figure you already know that. So instead, I'll tell you that hope is precious, and you're right not to give up.

– C. J. Redwine
– Abdul Kalam
There is no substitute for hard work. Never give up. Never stop believing. Never stop fighting.

– Hope Hicks
Why you should never give up
Sometimes giving up is a choice between letting go and the possibility of later regrets. And the problem is that regret comes late in life, when you may never have the chance to make things right.
Therefore, no matter how tempted you are to give up because of seemingly insurmountable odds, keep fighting. Take a breather if you must, but never give up.
Thomas Edison, the inventor clearly knows where he is coming from when he shared the following observation:
Many of life's failures are people who did not realize how close they were to success when they gave up.
So, whenever you're feeling down and out, tired to the bone, and everything in your struggle to achieve your dreams seems bleak, take a ray of sunshine from the thought that success could be just around the corner, just hang tight and keep going. Soon enough, you will reach your goal.
Aside from reaching your goal, there are other rewards you can reap when you keep going and never give up on your path to success. Some of these benefits of why you should never give up are listed below.
Overcoming your fears
Having a never-say-die attitude will help you overcome doubts and negative thinking, making you stronger in the face of adversity. And because you never give up and keep going despite your fears, you will eventually overcome them.
Opportunities for creativity
All of those obstacles and challenges will sharpen your creativity in finding alternative ways to achieve your goals. You become ingenious in search of solutions because you never give up.
Taking risks
Deciding to hang on tight and never give up, will teach you how to put 100% effort into all aspects of your life. Whether it is maintaining relationships, jobs, side hustles, hobbies, physical health, or overall well-being.
As a result, you will be motivated to strive for greater significance in your actions toward your dreams. You will dare take risks by doing things that others are afraid of.
This then will make you stand out among your peers. Because you are showing a positive attitude and a desire for new opportunities. And instead of simply wondering what if, you choose to take a risk and thus become strong.
Better management of your emotions
Failure is par with the course. It is to be expected.
But when you get up after each fall. When you reflect and take the time to learn from your failures, you are strengthening your emotional intelligence.
Which is a valuable concept that will greatly assist you on your path to success. Because developing your ability to manage your emotions effectively is critical to making things work.
When you are able to manage your emotions in challenging moments, you can limit the damage and become more efficient in a variety of situations.
You are better prepared
Never giving up on your dreams or on anything that you set your eyes on helps you become well-prepared for anything. This is due to your awareness that failure is unavoidable, and with this, you will be prompted to prepare for every possible scenario.
Additionally, the more you prepare for everything, the stronger you become and the harder you fight for your dreams.
You cultivate a positive attitude toward work
Your willingness to go to any length to achieve your goals will protect you from failure. This is because your never-give-up mindset will provide you with a variety of avenues to reach them.
In addition, you become more motivated to persevere, and as a result, you develop a positive attitude toward the work you do.
You realize that hard work is part and parcel of success, so you give a great deal of effort to what needs to be done while improvising, improving, and finding better ways to complete your tasks.
You become happier
When you never give up and eventually achieve your goals, your happiness will be much sweeter. This is due to the fact that your success came after a long journey filled with potholes, traps, detours, blood, sweat, tears, and even more tears.
Despite all of these challenges, obstacles, and even ridicule, you came through, probably bloodied and tear-stained, but, hey, you made it! So that overwhelming sense of pride and happiness is well deserved.
You see, when you decide to push through and never give up, you can enjoy life more as there is a promise of success with a side serving of happiness and contentment.
You discover your potential
You will undoubtedly learn a lot if you persevere and never give up.
For one thing, you can discover that you have many hidden strengths and potential. Two, you learn how to stay motivated. Finally, and perhaps most importantly, perseverance teaches you how to effectively convert your failures into successes.
Never giving up and accomplishing your dreams despite all odds will make you even more capable of achieving greater things in the future and provide you with the opportunity to inspire others.
Please share your thoughts or ideas about 80+ Never Give Up Quotes For You To Keep Giving Your Best in the comments below. For more quotes, check out…