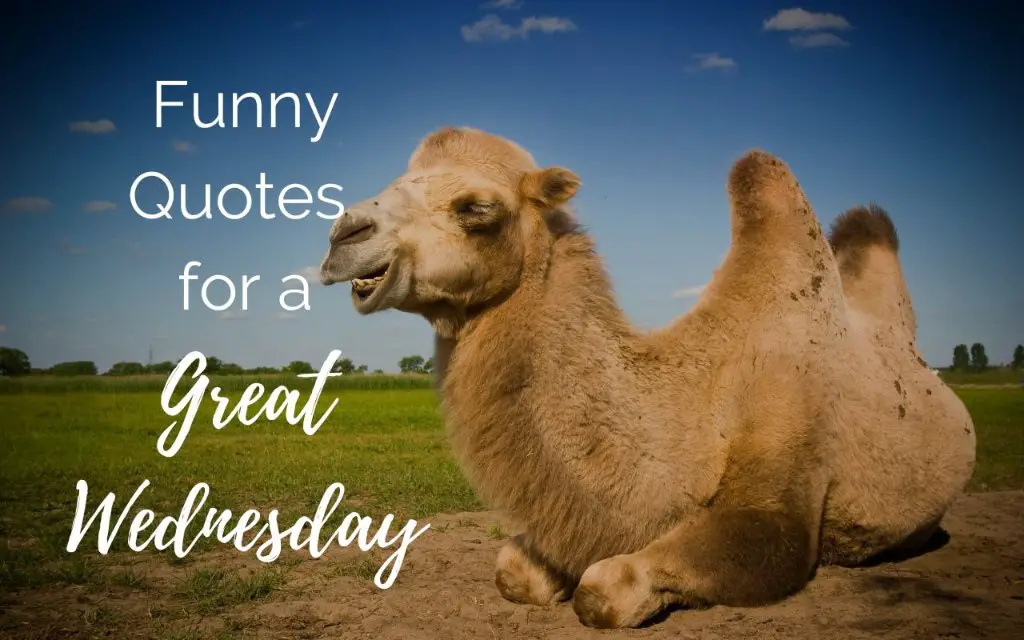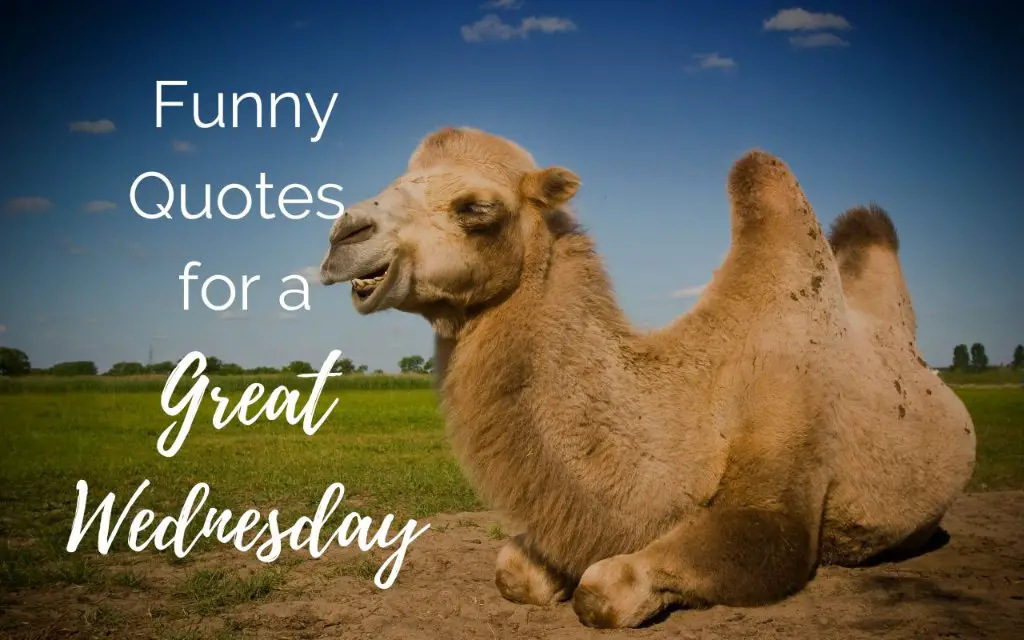 Wednesdays are great because they mark the halfway point of the week. It means you're halfway through. A couple more days and it's the weekend, hurray!
So, for hump day Wednesday, here are 65 funny, smart, positive, and motivational quotes to get your Wednesday off to a good start.
Funny Wednesday Quotes
1. They didn't want it good, they wanted it Wednesday. – Robert A. Heinlein
2. Always keep a bottle of wine in the fridge for a special occasion, you know, like Wednesday.
3. Me: Wow, Wednesday feels like it's already the end of the week, doesn't it?
Friend: It's only Tuesday
Me: Darn it!
4. When people refer to 'Back in the Day,' it was a Wednesday. Just a little fun fact for you. – Dane Cook
5. On Wednesday, when the sky is blue, and I have nothing else to do, I sometimes wonder if it's true That who is what and what is who. – Winnie the Pooh
6. When a day that you happen to know is Wednesday starts off sounding like Sunday, there is something seriously wrong somewhere. – John Wyndham
7. Wednesday: it's almost, sorta, kinda, close to, just, about nearly the weekend.
8. Wednesdays are like Mondays in the middle of the week! – Lee Fox Williams
9. Good Morning! Part of me thinks 'Wow, it's Wednesday already,' and the other part is thinking 'What do you mean, it's only Wednesday?!
10. To some, it's Hump Day. To us, it's Wednesday's getting its ass kicked and Thursday just asking Friday to switch places. – Dwayne Johnson
11. Wednesday. Still not Friday
12. Nothing ruins Friday more than realizing that today is Wednesday.
13. Dude, I can see Friday from here.
14. I find your lack of faith in Wednesday disturbing… don't worry, the week is almost over.
15. I ordered for a Friday, but you gave me Wednesday.
16. Tomorrow you'll be saying hello from the other side of the work week.
17. Wednesdays will always bring smiles for the second half of the week.
18. Wednesday, finally we're on the right side of the week.
19. Nothing screws your Friday more than realizing that it's only Wednesday.
20. This is Hump day Radio here to remind you there are still too many days between you and your weekend.
21. May the fleas of a thousand camels infest the crotches of the people that irritate me today, and may their arms be too short to scratch! Happy Hump Day!
22. How to survive Wednesdays, put an 'out of order.' sticker on your forehead and call it a day.
23. Wednesday is Latin for almost Friday.
24. To be honest, I'd rather be drinking coffee on my unicorn than whatever this Wednesday business is.
25. The brain is a wonderful organ; it starts working the moment you get up in the morning and does not stop until you get into the office. – Robert Frost
26. Wednesday: you live through it, but still can't spell it.
27. Wednesday: Over the Hump and off to the weekend!
28. Wednesday will never be lonely when it has days all around it. – Anthony T. Hincks
29. Elephants love Wednesday, and so will you. Elephants remember Wednesday as if it was only Tuesday. – Anthony T. Hicks
30. He couldn't believe it was only Wednesday. And it was made worse when he realized it was actually Tuesday. – T. J. Klune
31. Home may be where the heart is but it's no place to spend Wednesday afternoon. – Walker Percy
32. Everyone wants me to be a morning person. I could be one, only if morning began after noon. – Tony Smite
33. The kind of Wednesday morning when you are wishing it was any other day. – Jeannie Tisdale
34. Every single day I wake up and make up my mind that I am going to work really hard. Then my mind laughs at me and says 'Good joke.' Then we laugh for some more time and I go back to bed. – Gehenna Toss
35. The first thing I do in the morning is to brush my teeth and sharpen my tongue. – Dorothy Parker
Positive Wednesday Quotes
36. There are only two ways to live your life. One is as though nothing is a miracle. The other is as though everything is a miracle. – Albert Einstein
37. You can make a small change in a day. If you change Wednesday, then you change Thursday. Pretty soon it's a week, then a month, then a year. It's bite-size, as opposed to feeling like you have to turn your life inside out to make changes. – Hoda Kotb
38. Happy Wednesday! You are who you are; be happy with what you are called to do. Do not pretend to be like someone else for your gifts are unique to help lead you to the success as only you can define. Have a good day. – Byron Pulsifer
39. Humans have a weakness by often making mistakes. But, he also has the advantage of learning from his mistakes. May your hump day be full of success.
40. Even if you are on the right track, you'll get run over if you just sit there. – Will Rogers
41. When you get up on a Wednesday morning, don't ask yourself what to do, but what you can do to be happy.
42. After the storm the sun always comes out, remember that after Wednesday there is always a Saturday waiting for you. Be patient and you will be rewarded.
43. A good day is a day in which we manage to grow even a little bit and to move ahead at least one tiny step. When we stagnate, we lose ourselves and we lose endless chances. That is why a good Wednesday is a day when we did things and we did them well. – Liza Hawkins
44. Sometimes all it takes is just a little smile to get us up and over the hump.
45. The problem comes to give you the most valuable treasure, the lesson. Solve your problems, take wisdom, and enjoy your hump day.
Smart Quotes for Wednesday
46. Inspiration is one thing and you can't control it, but hard work is what keeps the ship moving. Keep up the good work. – Kevin Eubanks
47. I've heard of Monday, Tuesday, Wednesday, Thursday, and Friday, but I've never heard of Someday. – Reverend Ike
48. The secret of getting ahead is getting started. – Mark Twain
49. The best preparation for good work tomorrow is to do good work today. – Elbert Hubbard
50. Heaven knows the difference between Sunday morning and Wednesday afternoon. God longs to speak as clearly in the workplace as He does in the sanctuary. – Max Lucado
51. It's a bad day when you don't get the work done that you need to get done or you don't get it done to satisfaction. – David Fincher
52. People often say that motivation doesn't last. Well, neither does bathing. That's why we recommend it daily. – Zig Ziglar
53. Don't judge each day by the harvest you reap, but by the seeds you plant. – Unknown
54. I think vestigially there's a synesthete in me, but not like a real one who immediately knows what color Wednesday is. – A. S. Byat
55. Nothing happens until something moves. – Albert Einstein
Motivational Quotes for Wednesday
56. Challenges are what make life interesting and overcoming them is what makes life meaningful. – Joshua Marine
57. Each morning is the open door to a new world – new vistas, new aims, new plans, new things…Wednesday morning is no less. – Unknown
58. It's Wednesday! I'm breathing. I'm healthy. I'm truly blessed. I'm grateful for this day. – Unknown
59. You must get good at one of two things. Planting in the spring or begging in the fall. – Jim Rohn 
60. Have the courage to follow your heart and intuition. They somehow already know what you truly want to become. – Steve Jobs
61. It takes less time to do a thing right than it does to explain why you did it wrong.
62. By Wednesday, work is something that's easy to complain about. But at the end of the day, you're making money and making a living.
63. When writing the story of your life, don't let anyone else hold the pen. – Harley Davidson
64. Opportunities don't happen, you create them. – Chris Grosser
65. The distance between insanity and genius is measured only by success. – Bruce Feirstein
Workday Wednesday Quotes
66. The only way to do great work is to love what you do. – Steve Jobs
67. Wednesday means we're halfway through half-assing our work for the week.
68. I have Wednesdays that feel like Mondays when I wish that they were Fridays
69. Rise and grind. It's Hump Day!
70. It's woohoo Wednesday. Today is going to be a good day. 
71. My job is to give people who work hard all week something to enjoy on Saturdays and Wednesdays." – Arsene Wenger
72. Enjoy all you have got, while it's here and now wellness Wednesday stay focused and achieve success.
73. Have a lovely Wednesday morning; it has brought no distress but joy to you. Have a wonderful day ahead because Wednesday is smiling at you, good morning!
74. Wednesday is a day to help others celebrate life. You and only you are accountable for what you extend and give to others. One smile not only increases your value but it gives joy to each person you meet. –  Byron Pulsifer
75. Choose a job you love, and you will never have to work a day in your life. – Confucius
Fun Wednesday facts
What's up with Wednesday? It brings out opposing views. One says it's only Wednesday while the other says, it's Wednesday, we're halfway through!
Whatever side you're on, knowing some little-known facts about Wednesday is entertaining. So here we go.
Did you know that Wednesday is named after Woden, the most powerful god in the Germanic Pantheon? The name is derived from the Old English word Wdnesdaeg and the Middle English word Wednesdei, both of which mean "day of Woden," reflecting the Anglo-Saxons' pre-Christian religion.
Wednesday is also associated with the Roman God Mercury, which is why Wednesday is named "Mercredi" in French, "Miercoles" in Spanish, and "Mercoledì" in Italian.
According to a survey, bosses are most receptive to employee requests on Wednesdays. So now you know the best day to ask for a raise, mark that down.
The term "hump day" for Wednesday began in the 1950s. This is because Wednesday is the middle of the week. A hump that needs to be hurdled before coasting the last two days of the week and sailing off to the weekend.
Green is the color associated with Wednesday in the Thai Solar Calendar.
Wednesday (Mittwoch) is the only day of the week that does not end in 'tag' in German (day).
In the movie Addams Family, the daughter is named Wednesday from the nursery rhyme Monday's Child, where the lyrics for Wednesday's child is "a child full of woe."
Judas Iscariot betrayed Jesus Christ on Good Wednesday. The term "spy" refers to Judas' exploitation of his position as Christ's disciple. Good Wednesday is usually celebrated with a mass three days before Easter.
In 1820, the Sheffield Wednesdays of the United Kingdom established themselves as the Wednesday Cricket Club. The club was named "Wednesday" because the founding members all had Wednesdays off from work. The team frequently went by Darnall Wednesday after playing at New Ground in Darnall.
In the stock market, Wednesdays produced the highest returns from 1932 to 2007. Take that, you haters of Wednesdays!
Conclusion
So there you have it: our collection of funny, positive, smart, and motivational quotes, as well as fun facts to get you through Wednesday.
It's not Friday yet, but it's getting there, so hold on tight, the weekend is on its way. You've made it through the first half of the week; the second half should be a breeze.
Just keep working hard and smart, stay motivated and your eyes on the prize.
Remember that Wednesdays are a blessing, just like any other day. It's another day for you to keep going after your dreams.
Please share your own quotes or thoughts about the 75 Funny Quotes For A Great Wednesday in the comments below. And if you liked this article, you might be interested as well in these articles:
Awesome And Funny Quotes To Love Your Mondays
Your Quick Motivational Quotes For Monday
50 Winning Quotes About Not Giving Up
43 Amazing Quotes For Your Personal Well-Being
55 Powerful Quotes For Your Daily Motivation