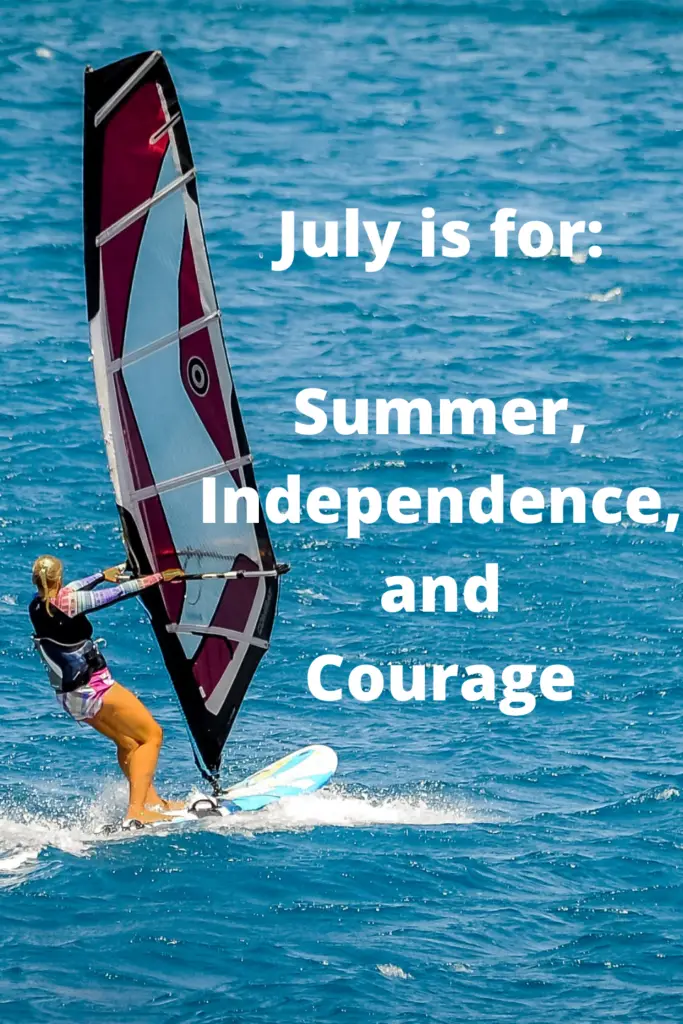 For the month of July, I bring you a compilation of inspirational quotes about summer, independence, and courage. The facts and events happening in July inspired this list of 31 motivational quotes.
What is July known for?
July is the second month of summer in the northern hemisphere. Additionally, it is the period where the sun is at its hottest and is often mentioned as the "dog days of summer". Another term associated with July is Hay Month because of the lack of water, turning grass into hay.
July is also the month where most countries celebrate their independence day. In fact, there are 26 countries celebrating their independence in July. Among the countries commemorating independence day includes the United States, Venezuela, Argentina, Canada, and South Korea.
The birthstone of July is ruby which represents contentment, passion, and honesty. In addition, ruby is also associated with good fortune and courage. This is why many ancient crowns used rubies for decoration.
So having learned all these facts, I compiled 31 inspirational quotes about July. These quotes center on the events and facts about July which are summer, independence, and courage.
10 Inspirational quotes about summer
Enjoy these beautiful words dedicated to summer:
"Rejoice as summer should…chase away sorrows by living." – Melissa Marr
"Summertime. It was a song. It was a season. I wondered if that season would ever live inside of me." – Benjamin Alire Sáenz
"The summer night is like a perfection of thought." – Wallace Stevens
"Even so, there were times I saw freshness and beauty. I could smell the air, and I really loved rock 'n' roll. Tears were warm, and girls were beautiful, like dreams. I liked movie theaters, the darkness and intimacy, and I liked the deep, sad summer nights." – Haruki Murakami
"Deep summer is when laziness finds respectability." – Sam Keen
"And so with the sunshine and the great bursts of leaves growing on the trees, just as things grow in fast movies, I had that familiar conviction that life was beginning over again with the summer." – F. Scott Fitzgerald
"Some of the best memories are made in flip-flops." – Kellie Elmore
"I love summertime more than anything else in the world. That is the only thing that gets me through the winter, knowing that summer is going to be there." – Jack McBrayer
"In summer, the song sings itself." – William Carlos Williams
"She smelled of sun and daisies with a hint of river water." – Katie Daisy
10 Inspirational quotes about independence
Independence entails the ability to make your own decisions and chart your own course in life. It allows you to create your own life and well-being. As a result, independence is sought after and treasured.

Continue reading for a list of inspirational quotes that will make you value your independence even more.
"For to be free is not merely to cast off one's chains, but to live in a way that respects and enhances the freedom of others." – Nelson Mandela
"Don't let the noise of others' opinions drown out your own inner voice." – Steve Jobs
"Freedom is not a reward or a decoration that is celebrated with champagne…Oh no! It's a…long distance race, quite solitary and very exhausting." – Albert Camus
"When I discover who I am, I'll be free." – Ralph Ellison
"Those people, who hate you, envy your freedom." – Santosh Kalwar
"I'm a big advocate of freedom: freedom of speech, freedom of expression, freedom of thought." – Jimmy Wales
"The first duty of a man is to think for himself" – José Martí
"Liberty is slow fruit. It is never cheap; it is made difficult because freedom is the accomplishment and perfectness of man." – Ralph Waldo Emerson
"What then is freedom? The power to live as one wishes." – Marcus Tullius Cicero
"Don't be satisfied with stories, how things have gone with others. Unfold your own myth." – Rumi
11 Inspirational quotes about courage
As often said, courage is not the absence of fear but rather the ability to face danger or challenges despite your fears.
So to motivate you to look fear in the eyes and take that leap, here are profound thoughts to assist towards that dream or goal.
"Success is not final, failure is not fatal: it is the courage to continue that counts." – Winston Churchill
"Twenty years from now you will be more disappointed by the things that you didn't do than by the ones you did do. So throw off the bowlines. Sail away from the safe harbor. Catch the trade winds in your sails. Explore. Dream. Discover." – Mark Twain
"Courage starts with showing up and letting ourselves be seen." – Brené Brown
"Whatever you do, you need courage. Whatever course you decide upon, there is always someone to tell you that you are wrong. There are always difficulties arising that tempt you to believe your critics are right." – Ralph Waldo Emerson
"I have accepted fear as part of life – specifically the fear of change… I have gone ahead despite the pounding in the heart that says: turn back…." – Erica Jong
"Courage doesn't always roar. Sometimes courage is the quiet voice at the end of the day saying, "I will try again tomorrow." – Mary Anne Radmacher
"Nobody who says, 'I told you so' has ever been, or will ever be, a hero." – Ursula K. Le Guin
"My great hope is to laugh as much as I cry; to get my work done and try to love somebody and have the courage to accept the love in return." – Maya Angelou
"You can choose to let this thing bother you or let this be an adventure and welcome the challenge." – Fred Rogers
"One isn't necessarily born with courage, but one is born with potential. Without courage, we cannot practice any other virtue with consistency. We can't be kind, true, merciful, generous, or honest." – Maya Angelou
"Just because you fail once doesn't mean you're gonna fail at everything." – Marilyn Monroe
Closing
So how did you find these inspirational quotes about summer, independence, and courage? Please share your thoughts in the comments section, as well as your favorite inspirational quote.
If you enjoyed these quotes for July, you may also like my selection of inspirational quotes for the month of January, February, March, April, May, and June.
Outside reference: