Sometimes we go through a bad patch in our life. One highly successful approach to getting you out of the rut is through positive words.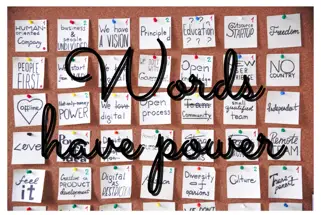 Anxiety
I can certainly attest to the benefit of positive words. Their powerful message sustained me during my last months in the corporate world.
There were a lot of things going on at work during those times. Along with the usual pile of things that need to be done. And then, of course, the uncertainties and stress brought about by the pandemic.
Mentally strong
By now, we would have read about the changes happening around the world. Definitely, we see it in our surroundings. And if we are unaffected, we have got to be mentally super strong people not to feel the negative effects.
Because, let's face it, we all have at one point, been anxious about what will happen next. What will become of us, our family, and our friends?
So for me, the power of words, positive words, that is, helped me through the uncertainties.
Words from the Bible
This one Bible verse, in particular, calmed me so much so that I feel the need to share it here.
These words are from the letter of Paul to the Philippians chapter 4 verses 6 to 7:
Verse 6
Do not be anxious about anything, but in every situation, by prayer and petition, with thanksgiving, present all your requests to God.
Verse 7
And the peace of God, which transcends all understanding will guard your hearts and your mind in Christ Jesus."
These words have a calming effect on my worried mind. It immediately assures me that everything will be alright. And that I should not worry about my job or my finances. As well as what will happen in the future.
Have faith
I am not a regular Bible reader but I can say without a doubt that I have a strong faith in God. And I don't know exactly what I am going on with this. But what I want to emphasize is that we have to BELIEVE in something. Emphasis on the word believe, because what do we have to live for if we do not believe in something?
So these words, coupled with my belief, settled my nerves. And gave me a more positive outlook on what is to come.
These words helped in the next decisions that I made in my life.
New beginning
At present, I am beginning a new life. One where I can say that I truly want to pursue. Of course, I am conscious of the fact that the path will not be easy. More so because I have no experience whatsoever in this new career that I am going after. Heck, I am not even sure that it will sustain me and my family financially.
But I will struggle on. I can say I made my bed, I should then sleep in it. However, I would prefer to think about it later on and say, Hey! I gave it a try.
And when doubt or worry creeps in, the positive words and the message they carry will surely help to motivate me.
How about you? Please share your thoughts in the comments section below.