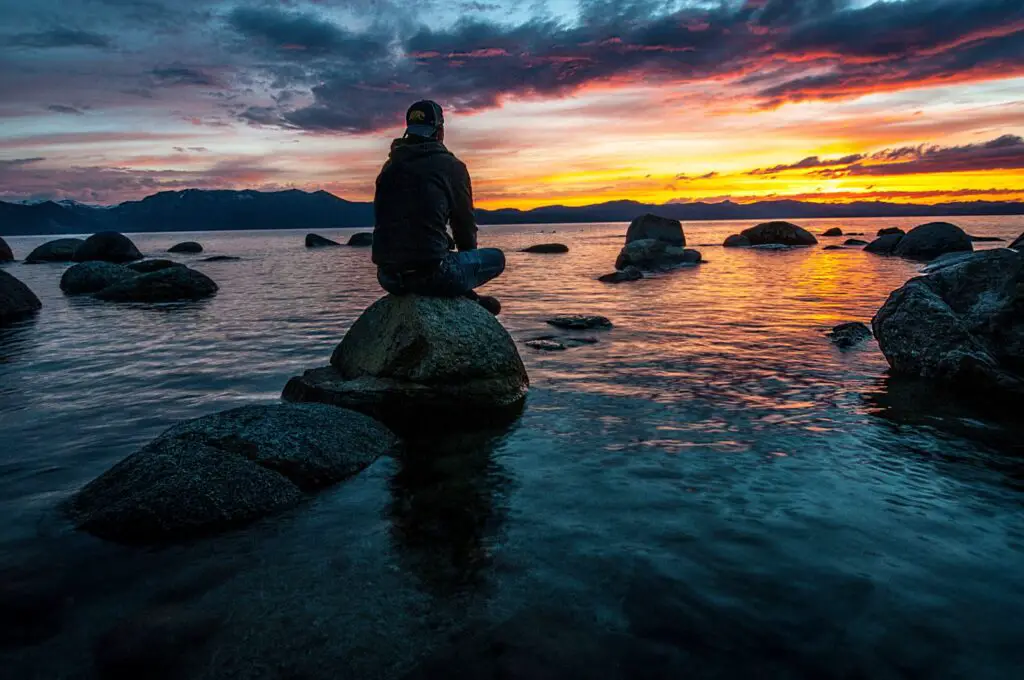 Being alone does not necessarily mean feeling lonely. In the same manner, you may feel lonely even when surrounded by many people.
This makes loneliness quite a complicated feeling. It is a heavy burden to bear yet something that only you can cure.
For this reason, we are sharing a list of deeply uplifting quotes for those of you who are alone and feeling lonely.
To help you feel seen or heard. To inspire you to connect with others. And to help you process and overcome your feelings of loneliness.
130 Uplifting quotes when alone and feeling lonely
Uplifting quotes about loneliness
Don't think you can frighten me by telling me that I am alone. France is alone. God is alone. And the loneliness of God is His strength.

– George Bernard Shaw
Pray that your loneliness may spur you into finding something to live for, great enough to die for.

– Dag Hammarskjold
There's nothing abnormal about loneliness.

– Paula Stokes
All great and precious things are lonely.

– John Steinbeck
The soul that sees beauty may sometimes walk alone.

– Johann Wolfgang Von Goethe
A season of loneliness and isolation is when the caterpillar gets its wings. Remember that next time you feel alone.

– Mandy Hale
Loneliness adds beauty to life. It puts a special burn on sunsets and makes night air smell better.

– Henry Rollins
Some profound and beautiful things are borne of loneliness.

– Amri Deen
If you learn to really sit with loneliness and embrace it for the gift that it is… an opportunity to get to know you, to learn how strong you really are, to depend on no one but you for your happiness… you will realize that a little loneliness goes a long way in creating a richer, deeper, more vibrant and colorful you.

– Mandy Hale
Loneliness is proof that your innate search for connection is intact.

– Martha Beck
Loneliness is the human condition. Cultivate it. The way it tunnels into you allows your soul room to grow. Never expect to outgrow loneliness. Never hope to find people who will understand you, someone to fill that space. An intelligent, sensitive person is the exception, the very great exception.

– Janet Fitch
Loneliness can be conquered only by those who can bear solitude.– Paul Tillich
Remember: the time you feel lonely is the time you most need to be by yourself. Life's cruelest irony.

– Douglas Coupland
Accept your own aloneness and stick to it, all your life. And then accept the times when the gap is filled in, when they come. But they've got to come. You can't force them.

– D.H. Lawrence
Some nights are made for reflection, or the savoring of loneliness.

– Poppy Brite
There is something immaculate about loneliness which only lonely people can understand.

– Munia Khan 
I am stronger than depression and I am braver than loneliness and nothing will ever exhaust me.

– Elizabeth Gilbert
It is better to be lonely than allow people who are not going anywhere keep you from your destiny.

– Joel Osteen
Many people suffer from the fear of finding oneself alone, and so they don't find themselves at all.

– Rollo May
To live a spiritual life we must first find the courage to enter into the desert of our loneliness and to change it by gentle and persistent efforts into a garden of solitude.

– Henri J.M. Nouwen
We feel alone, and in this we are connected.

– Leo Babauta
Learn your way around loneliness. Make a map of it. Sit with it, for once in your life. Welcome to the human experience.

– Elizabeth Gilbert
The loneliness you feel is actually an opportunity to reconnect with others and yourself.

– Maxime Lagacé
Love your solitude and try to sing out with the pain it causes you.

– Rainer Maria Rilke
But many of us seek community solely to escape the fear of being alone. Knowing how to be solitary is central to the art of loving. When we can be alone, we can be with others without using them as a means of escape.

– Bell Hooks
Because once alone, it is impossible to believe that one could ever have been otherwise. Loneliness is an absolute discovery.

– Marilynne Robinson
My happiness will remain in everything with which God so generously surrounds human loneliness.

– Vladimir Nabokov
If one's different, one's bound to be lonely.

– Aldous Huxley
I wish I could show you when you are lonely or in darkness the astonishing light of your own being.

– Hafez-e Shirazi
Loneliness is something I've never been bothered with because I've always had this terrible itch for solitude.

– Charles Bukowski
Alone but not lonely quotes
I find it wholesome to be alone the greater part of the time. To be in company, even with the best, is soon wearisome and dissipating. I love to be alone. I never found the companion that was so companionable as solitude.

– Henry David Thoreau
The strongest men are the most alone.

– Henrik Ibsen
Guard well your spare moments. They are like uncut diamonds. Discard them and their value will never be known. Improve them and they will become the brightest gems in a useful life.

– Ralph Waldo Emerson
Sometimes you need to be alone. Not to be lonely, but to enjoy your free time being yourself.

– Anonymous
I think it's good for a person to spend time alone. It gives them an opportunity to discover who they are.

– Amy Sedaris
A man can be himself only so long as he is alone; and if he does not love solitude, he will not love freedom; for it is only when he is alone that he is really free.

– Arthur Schopenhauer
I've never been lonely. I like myself. I'm the best form of entertainment I have.

– Charles Bukowski
There is a pleasure in the pathless woods, There is a rapture on the lonely shore, There is society, where none intrudes, By the deep sea, and music in its roar: I love not man the less, but Nature more.

– Lord Byron
The greatest thing in the world is to know how to belong to oneself.

– Michel de Montaigne
You cannot be lonely if you like the person you're alone with.

– Wayne W. Dyer
I was a man who thrived on solitude; without it, I was like another man without food or water. – Each day without solitude weakened me. I took no pride in my solitude, but I was dependent on it. The darkness of the room was like sunlight to me.

– Charles Bukowski
Cherish your solitude. Take trains by yourself to places you have never been.

– Eve Ensler
Solitude is independence. It had been my wish and with the years I had attained it. It was cold. Oh, cold enough! But it was also still, wonderfully still and vast like the cold stillness of space in which the stars revolve.

– Hermann Hesse
My solitude is my treasure, the best thing I have. I hesitate to go out. If you opened the little gate, I would not hop away—but oh how I sing in my gold cage.

– A.S. Byatt
If you are never alone, you cannot know yourself.

– Paulo Coelho
If you are alone you belong entirely to yourself. If you are accompanied by even one companion you belong only half to yourself.

– Leonardo da Vinci
But your solitude will be a support and a home for you, even in the midst of very unfamiliar circumstances, and from it, you will find all your paths.

– Rainer Maria Rilke
Have you ever been lonely? No, neither have I. Solitary, yes. Alone, certainly. But lonely means minding about being on your own. I've never minded about it.

– Sebastian Faulks
If you wanted to do something absolutely honest, something true, it always turned out to be a thing that had to be done alone.

– Richard Yates
It is easy in the world to live after the world's opinion; it is easy in solitude to live after our own, but the great man is he who in the midst of the crowd keeps with perfect sweetness the independence of solitude.

– Ralph Waldo Emerson
It is in your power to withdraw yourself whenever you desire. Perfect tranquility within consists in the good ordering of the mind, the realm of your own.

– Marcus Aurelius
We must become so alone, so utterly alone, that we withdraw into our innermost self. It is a way of bitter suffering. But then our solitude is overcome, we are no longer alone, for we find that our innermost self is the spirit, that it is God, the indivisible.

– Hermann Hesse
There are people who like to be alone without feeling lonely at all.

– Toba Beta
I care for myself. The more solitary, the more friendless, the more unsustained I am, the more I will respect myself.

– Charlotte Brontë
The secret of a good old age is simply an honorable pact with solitude.

– Gabriel García Márquez
That was the thing about being alone, in theory, or in principle. Whatever happened-good, bad, or anywhere in between-it was always, if nothing else, all your own.

– Sarah Dessen
A sensible man ought to find sufficient company in himself.

– Emily Bronte
Our language has wisely sensed these two sides of man's being alone. It has created the word "loneliness" to express the pain of being alone. And it has created the word "solitude" to express the glory of being alone.

– Paul Tillich
The trouble is not really in being alone, it's being lonely. One can be lonely in the midst of a crowd, don't you think?

– Christine Feehan
Great men are like eagles, and build their nest on some lofty solitude.

– Arthur Schopenhauer
Uplifting quotes about being alone and finding yourself
In order to understand the world, one has to turn away from it on occasion.

– Albert Camus
As regards intellectual work it remains a fact, indeed, that great decisions in the realm of thought and momentous discoveries and solutions of problems are only possible to an individual, working in solitude.

– Sigmund Freud
Ordinary men hate solitude. But the master makes use of it, embracing his aloneness, realizing he is one with the whole universe.

– Lao Tzu
Inside myself is a place where I live all alone, and that's where you renew your springs that never dry up.

– Pearl Buck
Solitude is a chosen separation for refining your soul. Isolation is what you crave when you neglect the first.

– Wayne Cordeiro
There is nothing outside of yourself. Look within. Everything you want is there.

– Rumi
Why do people have to be this lonely? What's the point of it all? Millions of people in this world, all of them yearning, looking to others to satisfy them, yet isolating themselves. Why? Was the earth put here just to nourish human loneliness?

– Haruki Murakami
Loneliness expresses the pain of being alone, and solitude expresses the glory of being alone.

– Pau Tillich
Silent solitude makes true speech possible and personal. If I am not in touch with my own belovedness, then I cannot touch the sacredness of others. If I am estranged from myself, I am likewise a stranger to others.

– Brennan Manning
Sometimes you need to sit lonely on the floor in a quiet room in order to hear your own voice and not let it drown in the noise of others.

– Charlotte Eriksson
Sometimes you need to take a break from everyone and spend time alone to experience, appreciate, and love yourself.

– Robert Tew
I don't see how you can respect yourself if you must look in the hearts and minds of others for your happiness.

– Hunter S. Thompson
It takes nothing to join the crowd. It takes everything to stand alone.

– Hans F. Hansen
We live in a very tense society. We are pulled apart…and we all need to learn how to pull ourselves together. I think that at least part of the answer lies in solitude.

– Helen Hayes
Sometimes you have to stand alone just to make sure you still can.

– Anonymous
If you want to be happy, learn to be alone without being lonely. Learn that being alone does not mean being unhappy. The world is full of plenty of interesting and enjoyable things to do and people who can enrich your life.

– Michael Josephson
When we cannot bear to be alone, it means we do not properly value the only companion we will have from birth to death—ourselves.

– Eda J. LeShan
The woman who follows the crowd will usually go no further than the crowd. The woman who walks alone is likely to find herself in places no one has ever been before.

– Albert Einstein
By all means use sometimes to be alone. Salute thyself; see what thy soul doth wear.

– George Herbert
When you are evolving to your higher self, the road seems lonely. But you're simply shedding energies that no longer match the frequency of your destiny.

– Unknown
Uplifting quotes for when you are left all alone
What a lovely surprise to discover how unlonely being alone can be.

– Ellen Burstyn
To find peace, sometimes you have to be willing to lose the connection with the people, places, and things that create all the noise in your life.

– Unknown
I am not alone, in my aloneness.

– T. Scott McLeod
I will fill myself with the desert and the sky. I will be stone and stars, unchanging and strong and safe. The desert is complete; it is spare and alone, but perfect in its solitude. I will be the desert.

– Kiersten White
All alone! Whether you like it or not, alone is something you'll be quite a lot!

– Dr. Seuss
I'm not much but I'm all I have.

– Philip K. Dick
In the solitude of your dreams grows the flame that will bring the light to this world.

– Unknown
You are never alone. You are eternally connected with everyone.

– Amit Ray
I think it's very healthy to spend time alone. You need to know how to be alone and not be defined by another person.

– Oscar Wilde
Not everyone you lose is a loss.

– Unknown
I have a good life, I remind myself. There are plenty of people who love me. They're just not around at the moment.

– Cynthia Hand
The hardest walk is walking alone, but it's also the walk that makes you the strongest.

– Unknown
When the world makes me feel like I am alone, love reminds me otherwise.

– Steve Maraboli
It's only natural to feel lonely after the enjoyable moments pass. But as you experience new joys those feelings of sorrow will start to fade.

– Mizu Sahara
Alone had always felt like an actual place to me, as if it weren't a state of being, but rather a room where I could retreat to be who I really was.

– Cheryl Strayed
In solitude, the mind gains strength and learns to lean upon itself.

– Laurence Sterne
The sun is alone too, but it still shines.

– Unknown
Look at the sky. We are not alone. The whole universe is friendly to us and conspires only to give the best to those who dream and work.

– A. P. J. Abdul Kalam
There is a magic in walking alone, in thinking alone: If there is no one to contact you around, the universe starts contacting you!

– Mehmet Murat Ildan
You only grow when you are alone.

– Paul Newman
Quotes to overcome feeling alone
Loneliness is and always has been the central and inevitable experience of every man.

– Thomas Wolfe
Cultivate solitude and quiet and a few sincere friends, rather than mob merriment, noise, and thousands of nodding acquaintances.

– William Powell
You are never alone; if you can talk to your conscience.

– M.F. Moonzajer
What has really happened when you feel alone is that you've abandoned yourself. You have stopped taking care of your own basic needs — you don't value yourself, you don't listen to your own thoughts, and you don't take care of your physical, emotional, or spiritual self. This is what is causing you to feel alone. You have abandoned you.

– Gregg Michaelsen
Being alone has a power that very few people can handle. 

– Steven Aitchison
Find company within yourself and you'll never spend a day alone. Find love within yourself and you'll never have a lonely day.

– Connor Chalfant
I can be alone without being lonely. In fact, those times of solitude are necessary respite for a beleaguered soul, set upon by the pressures of life. I need to take whatever moments I can to just be still.

– Steve Goodier
Be a loner. That gives you time to wonder, to search for the truth. Have holy curiosity. Make your life worth living.

– Albert Einstein
Loneliness is not lack of company, loneliness is lack of purpose.

– Guillermo Maldonado
It's no good trying to get rid of your own aloneness. You've got to stick to it all your life. 

– D.H. Lawrence
I have such a strong inner life that I'm never bored and only occasionally lonely. No matter what mayhem is happening around me, I know I can always turn inward.

– Susan Cain
Sitting alone, sleeping alone, acting alone, let the diligent one enjoy the forest, taming the self alone.

– Buddha
My alone feels so good, I'll only have you if you're sweeter than my solitude.

– Warsan Shire
Loneliness is sad, aloneness is blissful.

– Osho
I've also seen that great men are often lonely. This is understandable, because they have built such high standards for themselves that they often feel alone. But that same loneliness is part of their ability to create.

– Yousuf Karsh
Bible quotes about being alone and feeling lonely
Fear thou not; for I am with thee: be not dismayed; for I am thy God: I will strengthen thee; yea, I will help thee; yea, I will uphold thee with the right hand of my righteousness.

– Isaiah 41:10
And the LORD, he it is that doth go before thee; he will be with thee, he will not fail thee, neither forsake thee: fear not, neither be dismayed.

– Deuteronomy 31:8
And he said, My presence shall go with thee, and I will give thee rest.

– Exodus 33:14
Teaching them to observe all things whatsoever I have commanded you: and, lo, I am with you always, even unto the end of the world.

– Matthew 28:20
And the LORD shall guide thee continually, and satisfy thy soul in drought, and make fat thy bones: and thou shalt be like a watered garden, and like a spring of water, whose waters fail not.

– Isaiah 58:11
Uplifting quotes for when feeling lonely in relationships
The loneliness you feel with another person, the wrong person, is the loneliest of all.

– Deb Caletti
When they are alone they want to be with others, and when they are with others they want to be alone. After all, human beings are like that.

– Gertrude Stein
People think being alone makes you lonely, but I don't think that's true. Being surrounded by the wrong people is the loneliest thing in the world.

– Kim Culbertson
Lonely is not a feeling when you are alone. Lonely is a feeling when no one cares.

– Unknown
People in love always tried to match the singles together, but what they didn't realize was that some people were meant to be alone. There was nothing wrong with that.

– S.H. Kolee
When so many are lonely as seem to be lonely, it would be inexcusably selfish to be lonely alone.

– Tennessee Williams
The real loneliness is living among all these kind people who only ask one to pretend!

– Edith Wharton
Until you get comfortable with being alone, you'll never know if you're choosing someone out of love or loneliness.

– Mandy Hale
Loneliness is part of being human. It reminds us that we are not complete in ourselves.

– Unknown
People are lonely because they build walls instead of bridges.

– Joseph F. Newton
Please share your thoughts or ideas about 130 Deeply Uplifting Quotes For Those Who Are Alone And Feeling Lonely in the comments below.